71,192,251
leads recovered
From Startups to Fortune 500 – thousands of companies all over the World use Leadberry's B2B lead generation software to identify B2B visitors and turn them into hot leads.






Find out how our B2B lead generation software identifies companies who visit your website, and turns them into quality sales leads.
Identify
the right companies
Leadberry's B2B lead generation software analyzes traffic of your B2B visitors and filters out tremendous amount of unuseful data so only the right prospects remain in your focus.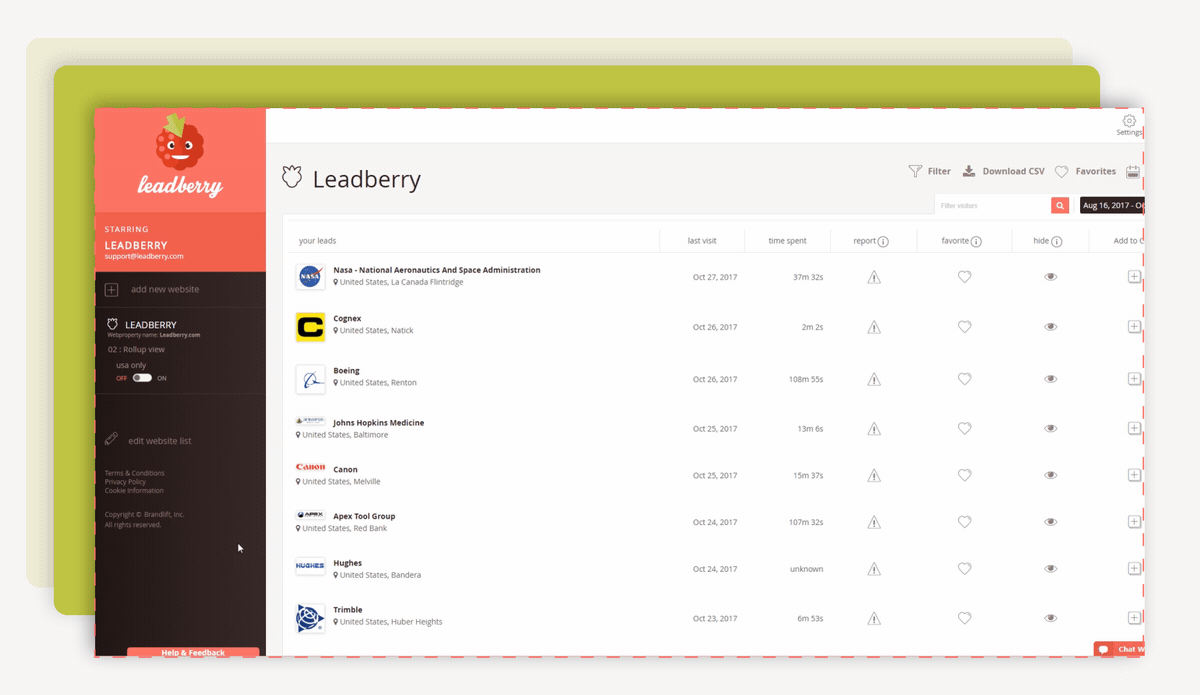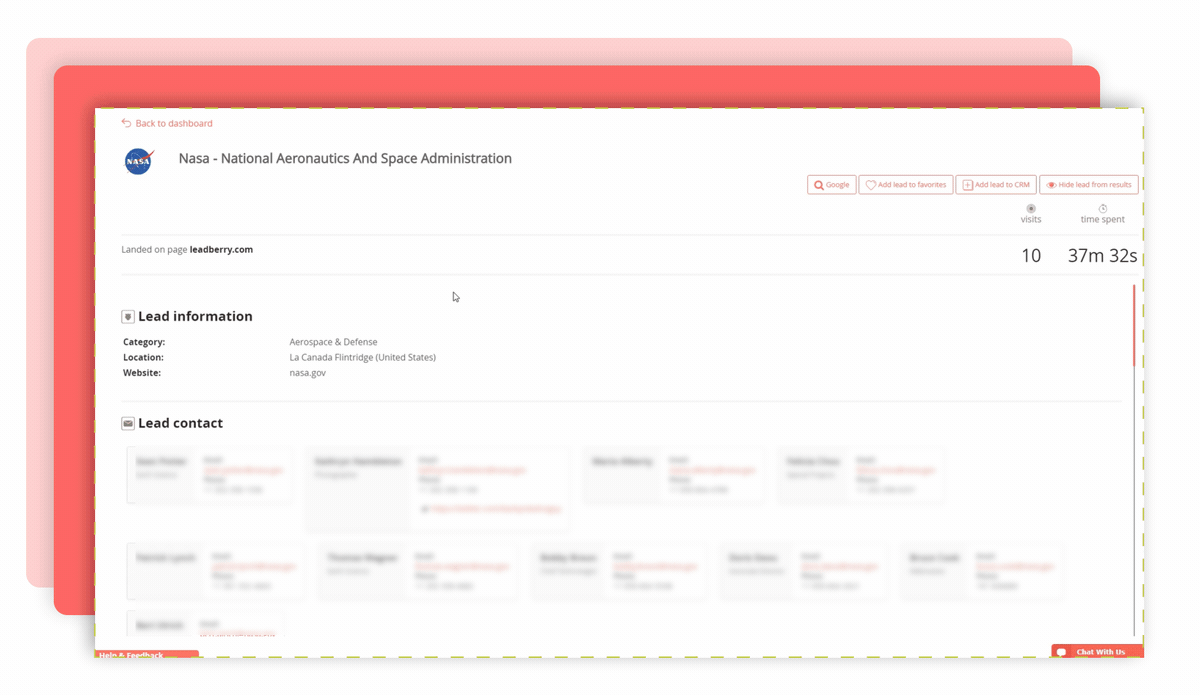 Gather company information,
social and people data
Using the most trusted business databases, Leadberry gathers contact, business and social data for you. You'll find contact details to company operatives as well, such as names, email addresses and phone numbers. With our direct LinkedIn integration you can find common connections within the prospect company, so you can start social selling right away!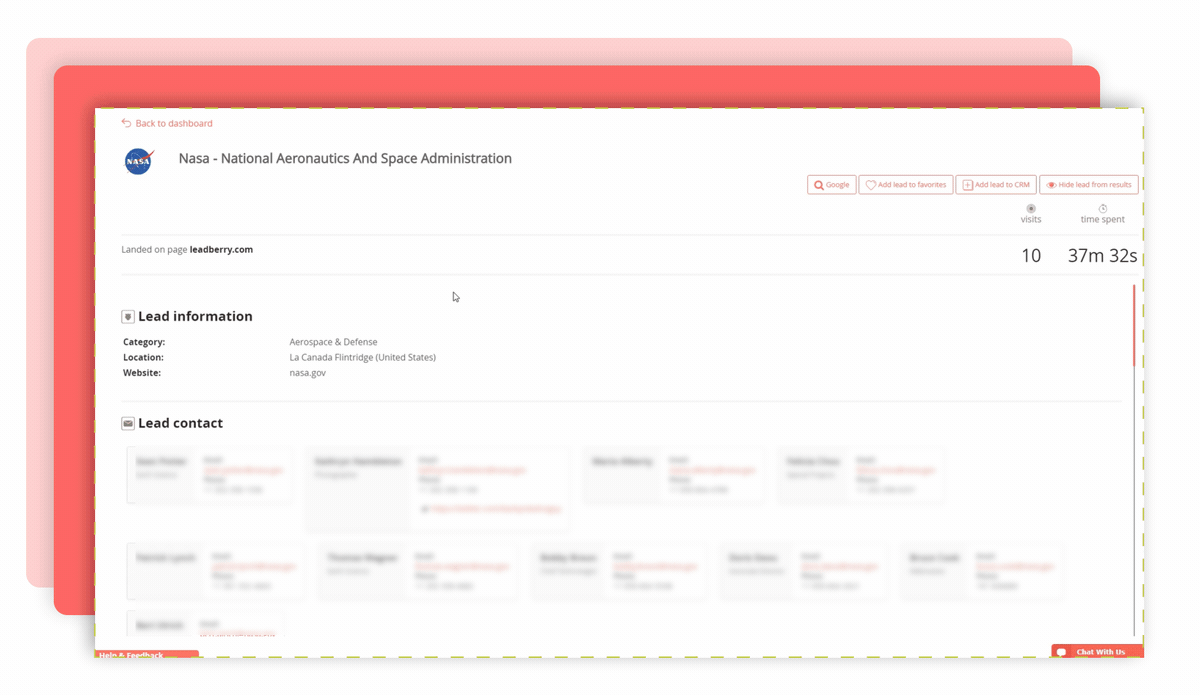 Display visitor metrics
and advanced filtering system
To have an in-depth knowledge about your leads before you reach out to them, our B2B lead generation tool compiles and displays what pages they visited, through what channel they found your site, time spent during their visit, and more analytics data.
You can set up custom filters based on lead name, pageviews, time on site, visited URL(s), campaign parameters, geo-location and traffic source/medium.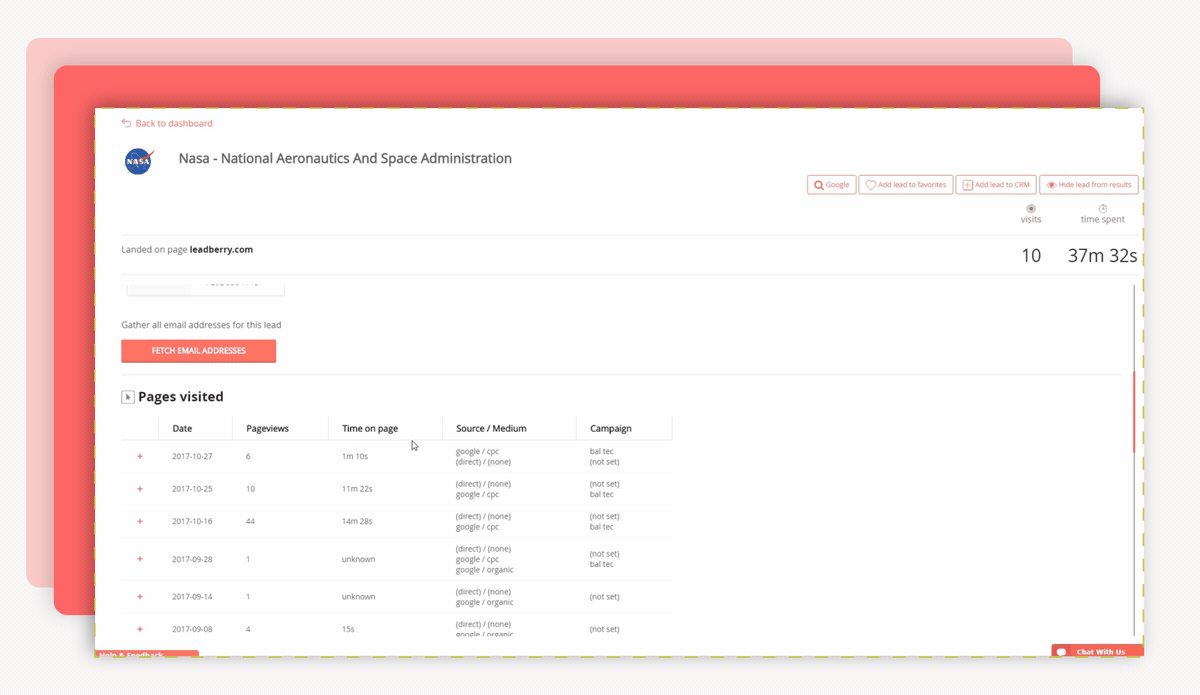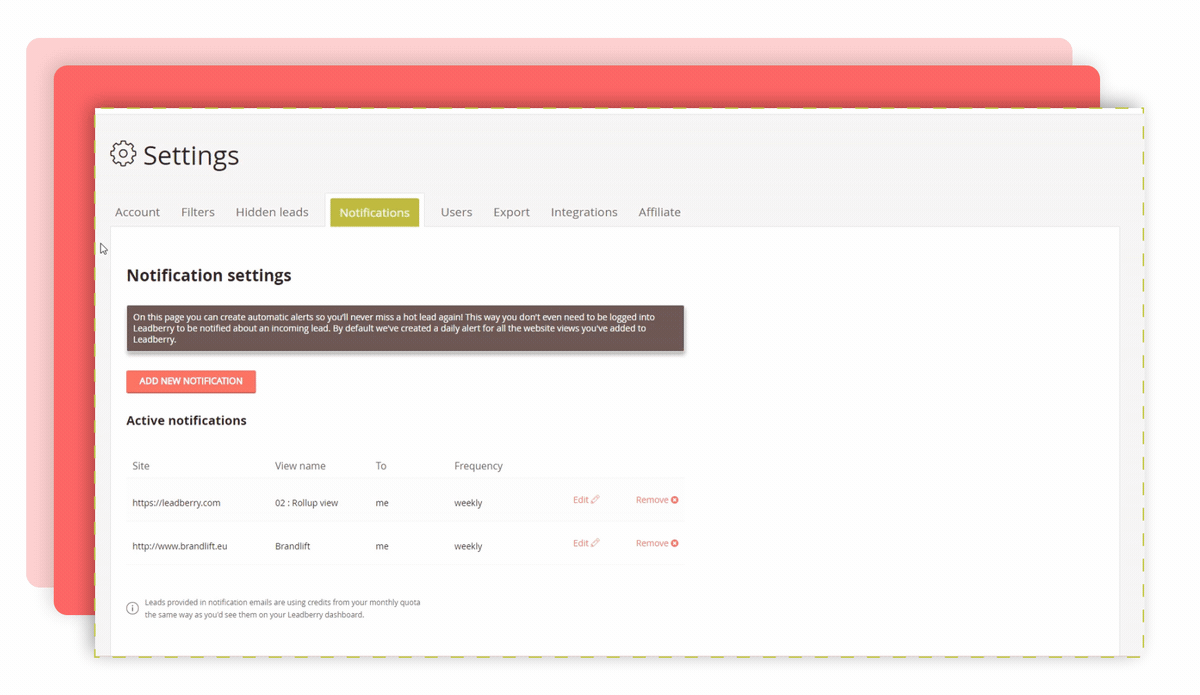 Custom
reports & alerts
Customize views and reports with our lead generation software, and set them accordingly to your preferences. All this data will be sent to you via email alerts or exported to your favorite sales tool. Our vast integration list will allow you to choose from hundreds of tools to sync with Leadberry, making it an unstoppable sales machine.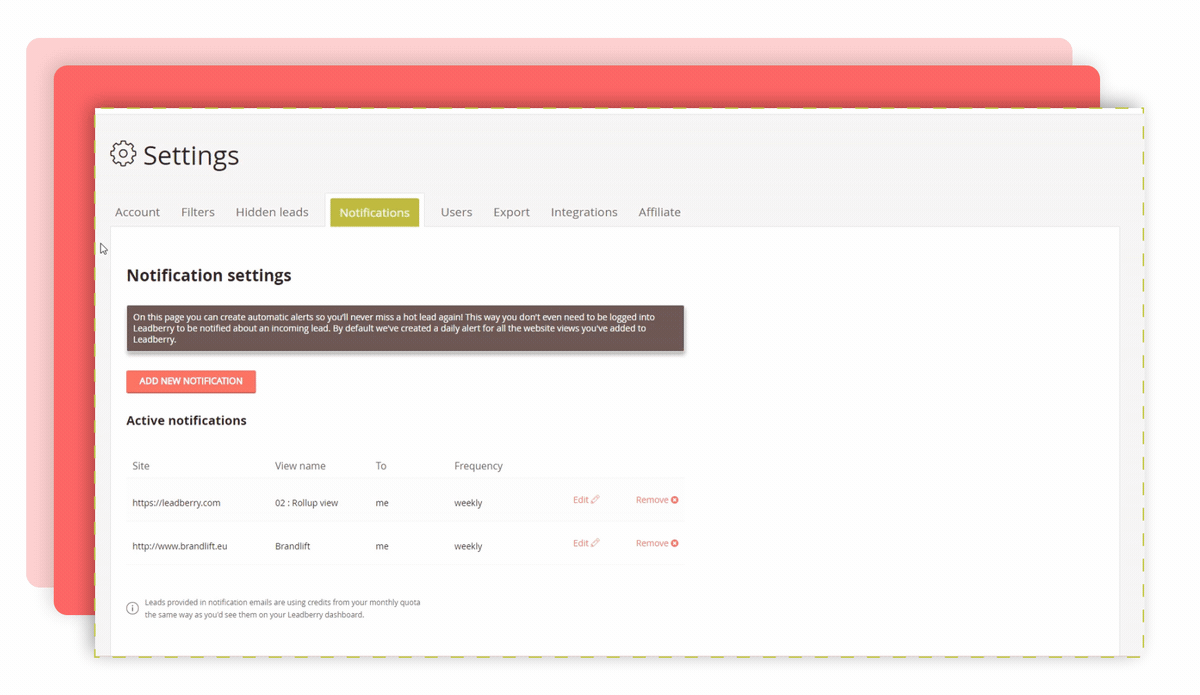 Similar Leads for
sales data enrichment
Besides identifying the companies visiting your website, we also show you more alike business prospects based on company industry and location. This is a great way to explore more business opportunities and give a boost to your sales efforts.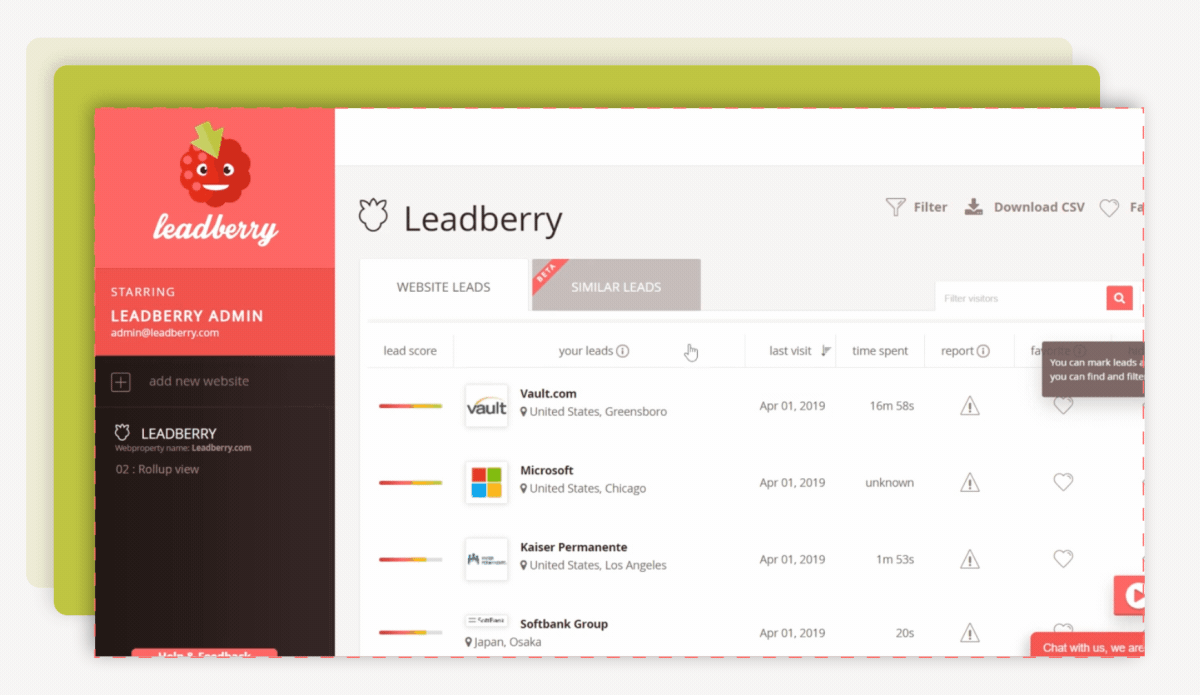 Convinced?
- Sign up in 30 seconds. - No credit card required.
Leadberry is a powerful lead generation tool that every sales team must have. And if you get stuck, their support team will help out.

Rita T. JLL
Leadberry's sales automation is without doubt taking weight off our shoulders and is helping a lot in our new business efforts


Balazs F. Prime Rate
We're using Leadberry at RisingStack to automate lead generation and it saves us a huge amount of time. I LOVE using Leadberry.


Zoltan G. RisingStack, BizDev & Growth Hacker
Knowing which companies visited our website, and being able to gather instant contact information for company operatives made the work of our sales team much easier! Also, thanks to the LinkedIn connection of Leadberry it was super easy to find out who we should contact. Great tool!


Andy B. Money.net
As the marketer of a huge corporation, I'm seriously impressed how such an easy to use tool opened a whole new world for our sales team!


Peter J. Dressa.com
Amazing Features for Fruitful Results
Company identification

In-depth visitor data

Real-time alerts

Robust filtering system
Works with
Google Analytics
Sales Teams

Marketing Teams

Management

Agencies
Sign up for free,
no credit card required
Implement Leadberry's tracking snippet in a
matter of minutes
Instantly start collecting
your leads
Download Leadberry's cold email checklist
to make your emails warm!