Zoho SalesIQ
is a platform that can help you boost your sales, support and marketing activities on your business website/application.
It identifies visitors of your site, keeps them engaged with automation tools and helps you communicate with them via message, audio call, email, etc.
Used together with Leadberry, you can identify which company the visitor is coming from, allowing you to do instant, personalized follow ups on live chat. Hot Berry!
How to do it?Step 1
In Leadberry, look for settings (little gear icon in the upper right corner),navigate to the Integrations tab, and select Zoho SalesIQ. You'll be provided with an API key there. Copy that API key.
Step 3:
Search and select Leadberry from partner applications. Once this is done, click "Enable" integration and paste the API key you've copied from Leadberry at the beginning.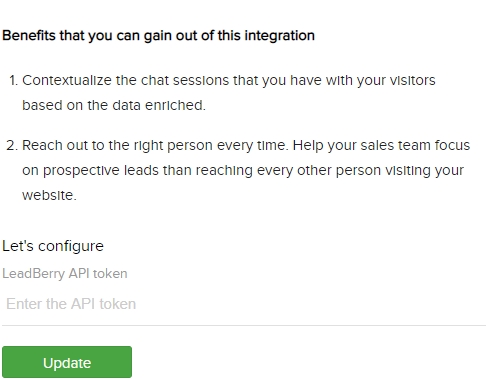 And this is all, you're done with the integration!

Once this is done, your Zoho SalesIQ operators will see enriched data about clients on the live chat, making your live support a sales army as well!